Hunan ZLCONN the professional Stationary placing boom,Concrete Placing Boom Manufacturer in China. Best sale in Asia. Vietnam, Philippines,Thailand,Pakistan,UAE more quantity than SANY, ZOOMLION Concrete placing boom. Radius 24m,28m,32m,34m,35m,36m,42m Stationary placing boom,concrete placing boom. High-end brand, oversea onsite service.
Features
Inner hydraulic oil tank renders a compact structure and free swivel. It gives big convenient for installation, dismounting and maintenance, which ensure longer service life and excellent performance.
Original Germany Rexroth oil pump and valves group increase reliability of placing boom.
The key components of electrical system are from world famous brand such as Japanese Omron and France Schneider ensures safety and stability.
The computer optimized designed arced boom structure are made of the high strengthened steel plate by the scientific production craft. The rigidity and the intensity are extremely increased.
Original Italy Comer reducer features with sufficient torsion, smooth running and reliable operation.
HG28C-3R, Concrete Placing Boom
28m, no counterweight
Click Here for Specification
Specification
×
Model
HG28C-3R Concrete Placing Boom
Step less speed and Proportional Valve
Non-stepless speed control, no proportional valve is as standard.(Stepless speed control and proportional valve is also available if you need)
Arm Section
3
Counterweight
without
Delivery pipe OD (ID) (mm)
Φ133 (Φ125)
End hose (ID*L) (″ * mm)
5″×3000
Radius of placing boom (m)
27.7
Stationary height(m)
22.7
Hydraulic foldable arms
1st section
10.5m
2nd section
9.2m
3rd section
8.0m
4th section
N/A
Boom articulation (°)
1st section
-4.2~82.5
2nd section
0°~180°
3rd section
0°~180°
4th section
N/A
Slewing range (°)
400°
Power of motor (kW)
15
Hydraulic system(Mpa)
30
Min interval of climbing frame (m)
Climbing
3
Placing concrete
6
Resting
Mode of operation
1. cable remote control, 2. radio remote control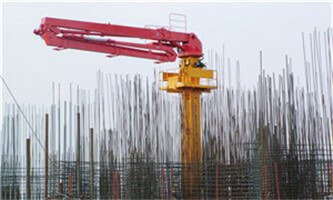 HG32E-3R Concrete placing boom
32m,with counterweight
Click Here for Specification
Specification
×
Model
HG32E-3R Concrete Placing Boom
Step less speed and Proportional Valve
Non-stepless speed control, no proportional valve is as standard.(Stepless speed control and proportional valve is also available if you need)
Arm Section
3
Counterweight
with
Delivery pipe OD (ID) (mm)
Φ133 (Φ125)
End hose (ID*L) (″ * mm)
5″×3000
Radius of placing boom (m)
31.7
Stationary height(m)
22.7
Hydraulic foldable arms
1st section
14.5m
2nd section
9.2m
3rd section
8.0m
4th section
N/A
Boom articulation (°)
1st section
-4.2~82.5
2nd section
0°~180°
3rd section
0°~180°
4th section
N/A
Slewing range (°)
400°
Power of motor (kW)
15
Hydraulic system(Mpa)
30
Min interval of climbing frame (m)
Climbing
3
Placing concrete
6
Resting
Mode of operation
1. cable remote control, 2. radio remote control
HG32C-3R, Concrete placing boom
32m, no counterweight
Click Here for Specification
Specification
×
Model
HG32C-3R Concrete Placing Boom
Step less speed and Proportional Valve
Non-stepless speed control, no proportional valve is as standard.(Stepless speed control and proportional valve is also available if you need)
Arm Section
4
Counterweight
with
Delivery pipe OD (ID) (mm)
Φ133 (Φ125)
End hose (ID*L) (″ * mm)
5″×3000
Radius of placing boom (m)
32
Stationary height(m)
22.7
Hydraulic foldable arms
1st section
9m
2nd section
7.65m
3rd section
7.65m
4th section
7.7m
Boom articulation (°)
1st section
-4.2~82.5
2nd section
0°~180°
3rd section
0°~180°
4th section
0°~180°
Slewing range (°)
400°
Power of motor (kW)
30
Hydraulic system(Mpa)
30
Min interval of climbing frame (m)
Climbing
3
Placing concrete
6
Resting
Mode of operation
1. cable remote control, 2. radio remote control
HG32E-4R, Concrete placing boom
32m, with counterweight
Click Here for Specification
Specification
×
Model
HG32E-4R Concrete Placing Boom
Step less speed and Proportional Valve
Non-stepless speed control, no proportional valve is as standard.(Stepless speed control and proportional valve is also available if you need)
Arm Section
4
Counterweight
with
Delivery pipe OD (ID) (mm)
Φ133 (Φ125)
End hose (ID*L) (″ * mm)
5″×3000
Radius of placing boom (m)
32
Stationary height(m)
22.7
Hydraulic foldable arms
1st section
9m
2nd section
7.65m
3rd section
7.65m
4th section
7.7m
Boom articulation (°)
1st section
-4.2~82.5
2nd section
0°~180°
3rd section
0°~180°
4th section
0°~180°
Slewing range (°)
400°
Power of motor (kW)
30
Hydraulic system(Mpa)
30
Min interval of climbing frame (m)
Climbing
3
Placing concrete
6
Resting
Mode of operation
1. cable remote control, 2. radio remote control
HG32C-4R, Concrete placing boom
32m, no counterweight
Click Here for Specification
Specification
×
Model
HG32C-4R Concrete Placing Boom
Step less speed and Proportional Valve
Non-stepless speed control, no proportional valve is as standard.(Stepless speed control and proportional valve is also available if you need)
Arm Section
4
Counterweight
without
Delivery pipe OD (ID) (mm)
Φ133 (Φ125)
End hose (ID*L) (″ * mm)
5″×3000
Radius of placing boom (m)
32
Stationary height(m)
22.7
Hydraulic foldable arms
1st section
9m
2nd section
7.65m
3rd section
7.65m
4th section
7.7m
Boom articulation (°)
1st section
-4.2~82.5
2nd section
0°~180°
3rd section
0°~180°
4th section
0°~180°
Slewing range (°)
400°
Power of motor (kW)
30
Hydraulic system(Mpa)
30
Min interval of climbing frame (m)
Climbing
3
Placing concrete
6
Resting
Mode of operation
1. cable remote control, 2. radio remote control
HG33C-3R, Concrete placing boom
33m, no counterweight
Click Here for Specification
Specification
×
Model
HG33C-3R Concrete Placing Boom
Step less speed and Proportional Valve
Non-stepless speed control, no proportional valve is as standard.(Stepless speed control and proportional valve is also available if you need)
Arm Section
4
Counterweight
without
Delivery pipe OD (ID) (mm)
Φ133 (Φ125)
End hose (ID*L) (″ * mm)
5″×3000
Radius of placing boom (m)
32.7
Stationary height(m)
22.7
Hydraulic foldable arms
1st section
15.5m
2nd section
9.2m
3rd section
8.0m
4th section
N/A
Boom articulation (°)
1st section
-4.2~82.5
2nd section
0°~180°
3rd section
0°~180°
4th section
0°~180°
Slewing range (°)
400°
Power of motor (kW)
15
Hydraulic system(Mpa)
30
Min interval of climbing frame (m)
Climbing
3
Placing concrete
6
Resting
Mode of operation
1. cable remote control, 2. radio remote control
HG35G-4R, Concrete placing boom
35m, with counterweight
Click Here for Specification
Specification
×
Model
HG35G-4R Concrete Placing Boom
Step less speed and Proportional Valve
Stepless speed control and proportional Valve
Arm Section
4
Counterweight
with
Delivery pipe OD (ID) (mm)
Φ133 (Φ125)
End hose (ID*L) (″ * mm)
5″×3000
Radius of placing boom (m)
35
Stationary height(m)
22.7
Hydraulic foldable arms
1st section
12m
2nd section
7.65m
3rd section
7.65m
4th section
7.7m
Boom articulation (°)
1st section
-4.2~82.5
2nd section
0°~180°
3rd section
0°~180°
4th section
0°~180°
Slewing range (°)
400°
Power of motor (kW)
30
Hydraulic system(Mpa)
30
Min interval of climbing frame (m)
Climbing
3
Placing concrete
6
Resting
Mode of operation
1. cable remote control, 2. radio remote control